NewTek releases the exciting TriCaster 40 and we have one in the studio along with Philip Nelson from NewTek to tell us all about it!
We suggest you watch in 1080HD so you can read the screen shots!
(Check out our other TriCaster videos including the TriCaster 8000!)
Over the last 18 months we have commented several times that NewTek are not addressing a large part of the live streaming market by not having a low end product within the reach of many small organisations/departments as well as individuals.  Today NewTek have responded to this requirements and have announced the TriCaster 40 at just under $5000.  Many thought that we would never see a TriCaster at this price point!
European prices are (excluding VAT):
TriCaster 40 – £3999, 4995 €.
TriCaster 40CS (Control Surface) – £1.599 , 1995 €
So what do you get for $5000?
NewTek TC40 Hardware overview:
4 HD analogue inputs – component, composite or y/c
2 HD analogue Outputs
2 audio inputs – one stereo line input (RCA / phono) and one 1/4″ microphone socket
2 Audio Outputs – one stereo line output (RCA / phono) and one 1/4″ headphone socket
NewTek TC40 Software overview:
The same basic user interface as the other TriCasters
Inputs:

4 Camera
2 Net
1 DDR (Digital Disk Recorder: Allows you to play videos)
2 Graphics inputs (stills, titles etc)
4 Virtual

Recording – Quicktime or H.264
Streaming – same friendly web interface as other TriCasters
Screen Grab – as per other TriCasters
What don't you get compared to higher end TriCasters:
No SDI inputs/outputs
Limited audio inputs and outputs
No Animation Store Transitions or TransWarp effects
Control surface optional
No ISOcorder
No Digital workflow
Only 1 DDR
No SpeedEdit (SpeedEdit is supported from an external computer)
No LiveText (LiveText is supported from an external computer)
It is unlikely that anyone considering a TC40 will already have SDI cameras so the lack of these inputs is not a big issue but how do you get component input into the TC40? Many cameras do have component out, we use Canon HF G10s (with HDMI to SDI mini converters) in the studio and they have component out but you need to buy a special cable from Canon. Many consumer cameras do have component out but you need to look carefully.
Many organisation and individuals will find the TC40 an ideal solution for their video production and streaming needs. If you compare the TC40 to the cost of building a software or hardware based switcher solution that gives similar capabilities the $5000 for the TC40 might is an extremely attractive option.
Download the TriCaster  40 User Guide
TriCaster Training Videos from NewTek
TriCaster TC40 Images (click for full size version):
Front Panel
Rear Panel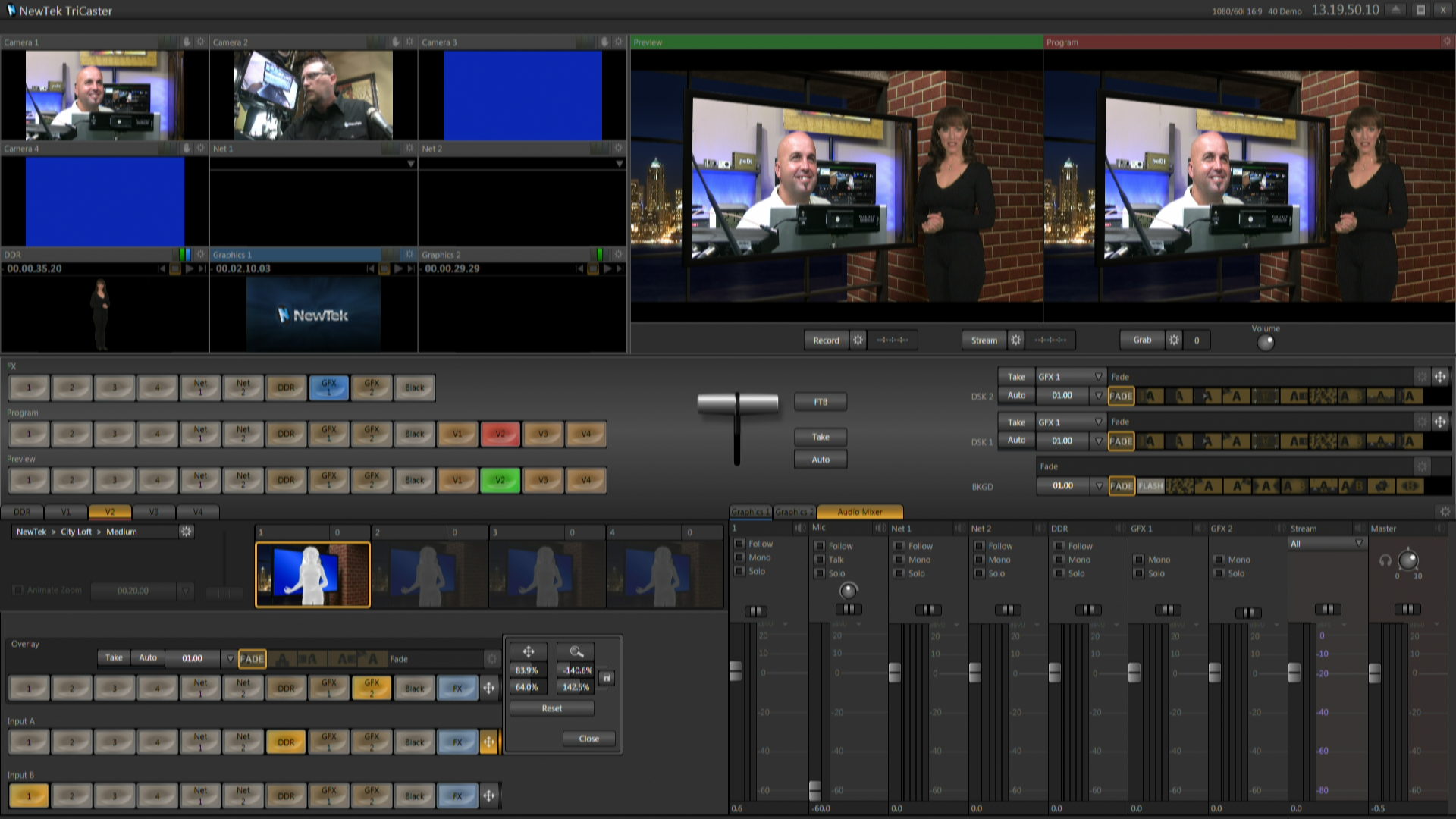 User Interface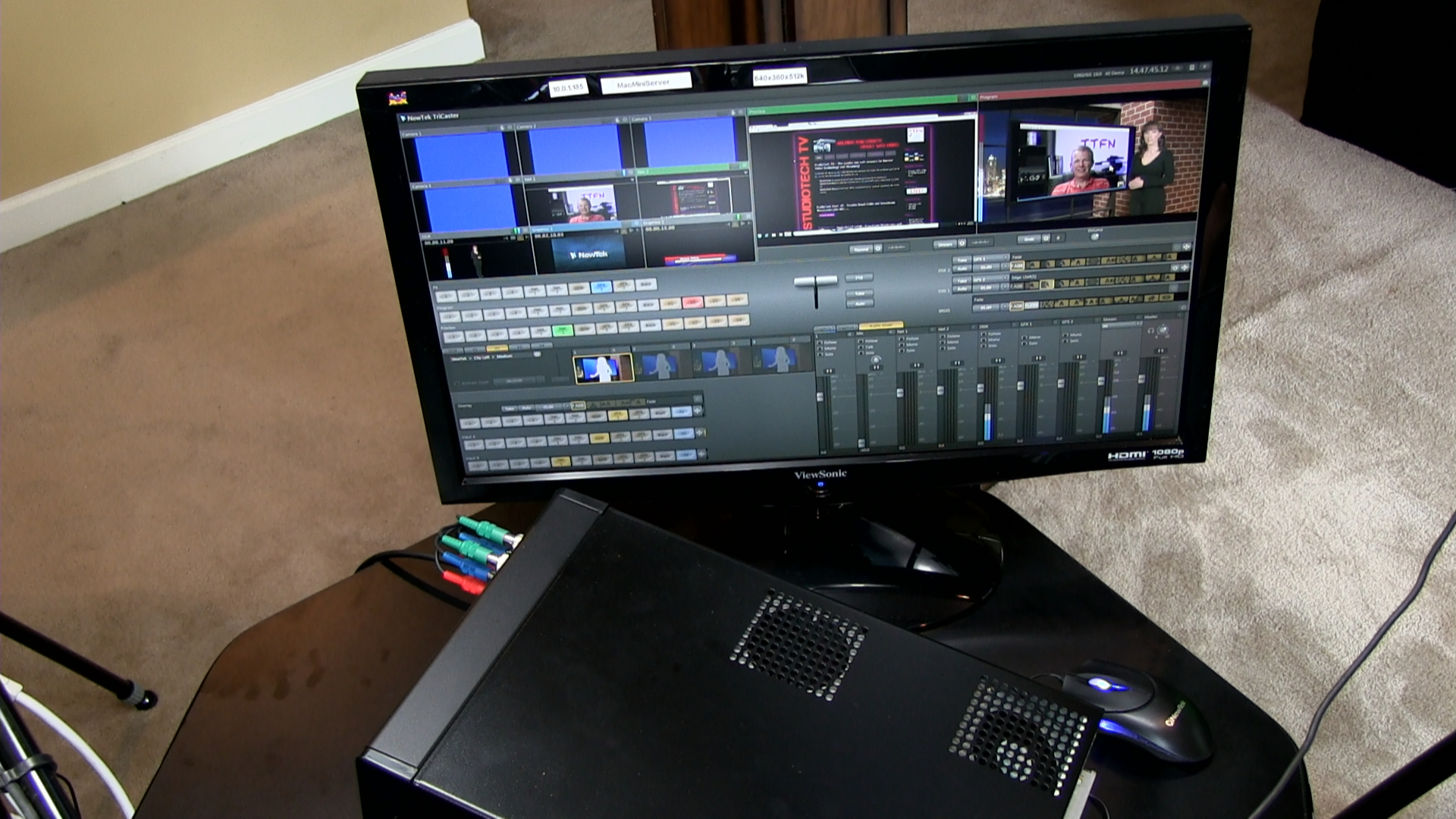 Overhead shot