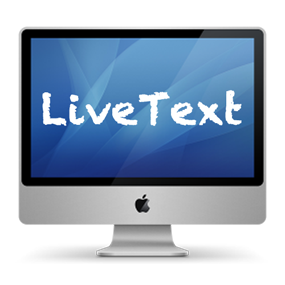 If you stream live or record your podcasts in one take with Wirecast you have probably experienced what we did earlier this week. During a podcast recording it was frustrating not being able to quickly put the address of a couple of websites directly on the screen. These were added in post afterwards but it would have been much easier to add in real time. If you are streaming live then 'fixing in post' is not an option!
Having thought about how we could do this we have come up with a solution and have written an application for MAC OS X that we run on a MacBook Pro connected to our Wirecast system using Desktop Presenter. Wirecast captures the text window and then keys out the green background to give us the ability to overlay text, live, during the recording or streaming.
We have called the application – LiveText. As it is so useful we have decided to share this with the Wirecast for Mac community.
LiveText version 0.1 does just what we want so it may not be updated from this version! But please leave any comments and suggestions and you never know!
This episode of StudioTech demonstrates the application and takes you through how to configure it in Wirecast.
LiveText is now available – please remember that no support is offered but please let us have any comments!
Please follow us on Twitter to get updates!
[download id="1″]
Mark